Name: Dr Jane Brunt
Web Site: http://www.catdoc.com/
Bio:
Dr. Jane Brunt, founder of Cat Hospital at Towson (CHAT), is the pioneer of feline exclusive practice in Maryland. She received her DVM from Kansas State University (go, Cats!), and since 1984 has advocated the necessity of an outstanding facility and staff dedicated to practicing the highest quality of cats only care and medicine at CHAT.
She is a Past-President of the American Association of Feline Practitioners and the Maryland Veterinary Medical Association. In 1997, Dr. Brunt was named one of Baltimore's "Top Vets" and featured on the cover of Baltimore Magazine, and in 1998 she served as Chair of the Host Committee for the AVMA Annual Convention in Baltimore (attended by a record 8,000 veterinary professionals and supporters), receiving several awards and accolades. A national advisor on feline medicine, she is also an active supporter of local, state, and national feline organizations, especially of the new generation of veterinary professionals.
Building on her clinical cat commitments and organizational passions, she serves as the Executive Director of CATalyst Council, a not-for-profit coalition of organizations and individuals committed to changing the way society cares for cats, "Promoting the Power of Purr…" across veterinary, sheltering, and public/civic communities. She owns a wayward standard poodle named Luka and three hilarious, keyboard-keen cats- Paddy, Freddie and CAT Stanley!
Cat Hospital at Towson
6701 York Road
Baltimore, MD 21212
Phone: (410) 377-7900
Email: cathospital@catdoc.com
Website: http://www.catdoc.com/
Facebook: Profile Page
Directions: Google | MapQuest | Yahoo!
Posts by :
February 16th, 2014

You might find it surprising that many Feline Docs like and have dogs! After all, we are Feline Docs and have chosen to limit our practices to just cats. The stories of how our canine companions came about are frequently similar to those of our cats- abandoned, adopted or otherwise acquired-sometimes because a human companion came with their own dog, or maybe they said they couldn't live without one so we acquiesced. According to the American Veterinary Medical Association in 2011, 36.4% of dog owners in the US also own a cat, while 46.7% of cat owners also own a dog!

I'm in that 46.7% of cat owners, and I am my dog Luka's third owner. I took him into my home three years ago after a pleading call from a girlfriend who described the sad situation. Luka, a 5 year old Standard Poodle, needed a home because his owner had recently passed away from malignant melanoma after a two year battle. The dog had been his constant companion and the co-owner would be moving away and unable to keep Luka. My friend had known my prior dog, Charley, a wonderful Standard that had lived to nearly 14 years of age. And while the chapter of needing a hypoallergenic pet was closed and I'd had only cats for several years, my memories of Charley at that age made me ask more. "How is he with cats?" I asked. "He's at a shelter nearby where there are lots of cats around and he seems fine with them," she replied. "Why don't you come take a look?" As luck would have it, my best friend from veterinary college was flying in for a visit, and Susan knows dogs like no one else I know. So the next day when I picked her up at the airport I asked her if she wanted to go see this dog that needed a home. By the time we arrived at the shelter it was dark, and all the animals had been fed and bedded down. The friend who was caring for Luka brought him to us and he immediately looked at Susan and me as if to say "it's dark and lonely here, won't you please take me home?" We walked him to the cat area and even got a couple of cats out to see how he'd respond; Luka was more interested in me than the cat. We left him there that night because I wanted some time to think and be sure, even though on the way home when I asked Susan what she thought she said, "I think I can't believe we left without that dog…" A few days later, Luka came to stay with me.

The cats were not especially welcoming. This alien was nowhere near like Charley, the ancient and benevolent curly-coated creature that lay on his dog bed for most of the day and night, allowing them to claim him as their own with their cheek rubs and massage. A soft and warm fur-lined bed was just fine to share. No, this dog was raucous and rambunctious, more of an unmannered wild child than a proper and pedigreed poodle. Environment enrichment and veterinary behaviorist counseling ensued with small gains. Still, even on car rides or walking in the neighborhood with no cats in sight, Luka became so aroused when he'd see (or smell) other dogs or squirrels that he'd go ballistic inside the car or on the leash attached to a Gentle Leader® head collar or harness. For anyone familiar with Emotional Intelligence, Luka seemed to be having repeated episodes of over-reacting to stressful situations, a series of seemingly never-ending amygdala hijacks. We became banned from dog parks and ostracized in the community.

Indoors it got better. Separation of feeding areas, positive reinforcement and clicker training helped some (at least the owner). I'm convinced Adaptil® pheromone collars and plug in diffusers have done a little more, and with time, patience and avoidance of trigger situations (a calming cap to cover his eyes while riding in the car was quite helpful) plus anti-anxiety medication, I was starting to feel pretty good about the progress in the dog and cats' relationship. One night I was sitting on the kitchen floor with Luka on one side of my legs and my grey cat Paddy on the other side. I saw relaxed body language from both- forward ears on Paddy, relaxed on Luka, both pets' eyelids blinking slowly, almost droopy. I thought I should reward that behavior and began to speak in a slow, low positive voice, "what a sweet Paddy…good boy, Luka…" stroking each with the hand closest to them. I probably should have called it a day and just stopped there, but decided to reward them with treats from my pocket. WRONG TIME AND PLACE! Luka wanted that resource-the treat- I'd just offered to the cat, and in a split second he jumped up, charged over my leg and had his mouth on Paddy who had sprung into retreat mode with wails seemingly of anger, fear and possibly pain. The water dish that was in the way exploded into dozens of shards and projectiles as I scrambled and screamed to break up the interaction. Whose amygdala was hijacked in that scene, and what did that do? I reasoned that the flight and fight responses from Paddy and I possibly saved his life, though he's pretty resourceful with retreat and he doesn't hold a grudge. Even though he had suffered a superficial laceration, the next day at Luka's dinner time he was back, seemingly teasing and taunting the dog while staying in areas where he could escape in case there was another outburst.

Fortunately, Luka-like interactions are uncommon. The three most important things to know about cat and dog co-ownership are:
Be proactive and have a safe and enriched environment for all your pets. Dr. Tony Buffington and the Indoor Pet Initiative of The Ohio State University
Understand that cats are not small dogs. The American Association of Feline Practitioners has information about normal cat behavior and how to provide outlets for that with examples in their Feline Behavior Guidelines.
Utilize the expertise of a licensed veterinarian Board-Certified in Veterinary Behavior or with additional training in veterinary behavior and are members of the American Veterinary Society of Animal Behavior
Nearly half of all cat owners also own a dog and a third of all dog owners also have a cat, and most live in harmony even with their differences. Luka and Paddy are learning, and there's a lesson in that for us, too.
August 25th, 2013
It was sunny summer weekday morning and I had only two blocks to go to get to the cat hospital where I work when I saw a familiar black and white figure on the double yellow line up ahead. As I approached, I could see it clearly – a tuxedo cat, its colors smudged like newsprint with tar and debris from the road leaving permanent stains, highlighted in red by the cat's internal organs which had eviscerated with the impact.
Nothing to be done to save the cat, I parked my car at work, went in to get some towels and walked back to where the lifeless cat lay. Back at the hospital, we looked for a collar and tag- none- scanned him for a microchip-negative- and could see he was a young male, unneutered and possibly unowned. A tragic end to his short life.
How could this have had a better ending? One where this handsome, sleek feline could have enjoyed a life like so many of the patients for which we care every day? He had been wandering or perhaps bolted across a busy four-lane road, very likely in pursuit of a female. Female cats, known as queens, can go through estrus or "heat" cycles every few weeks through the warmer months if they do not mate.
Their pheromones, or scent hormones, while odorless to us will bring male cats like our unlucky friend from other areas. And those tom cats will urine mark the territory they are attempting to claim, scratch to provide visual warnings to other male cats trying to vie for the female in question, and even fight to claim the right to breed her.
Spaying and neutering all cats not intended for registered purebred breeding will keep them from fighting, roaming, urine marking a territory they are attempting to claim, and most importantly, it will keep them from contributing to the already burgeoning cat population. Spaying and neutering is critical for the health of the cats, as females spayed before they go through a heat cycle have less than ½ of 1% (0.5%) chance of developing breast cancer. With every subsequent heat cycle, the risk of developing breast cancer increases.
Each year, the third Saturday of August is International Homeless Animals Day. Why not contribute and celebrate this year by helping cats in need of spaying and neutering in your community? Help out with a TNR (trap, neuter, return) program in your own community, sponsor a spay or neuter surgery for a cat in need at your local veterinarian, or volunteer at a local shelter or rescue organization that is committed to sterilization of both dogs and cats prior to adoption.
Sadly, our tuxedoed cat was all dressed up with somewhere to go, and it wasn't home. So please spay and neuter, and celebrate a lifetime of health and happiness with your cat, and with cats in your community.
May 12th, 2013
This weekend is one of the most sacred holidays in the world – Mother's Day. Everyone has a mother, and most of us celebrate all the things they've done to help us become the people we are. We shop for the card with just the right sentiment, order her favorite flowers, select the age and taste-appropriate candy of cocoa bean origin (milk chocolate is my own mother's self-admitted favorite food!), or perhaps celebrate her memory with a visit to her resting place. It's a great time for the free-enterprise economy, too. Florists are busier than accountants in April, and Hallmark heralds May as a month with highest single category sales (greeting cards) than any other month including Christmas (verification withheld to make my point).
So why would we even consider boycotting Mother's Day? Well, if you're a cat, since you don't really care about cards or flowers (though both seem tasty to some cats with intestinal problems), it's all about the numbers. And while owned pet cats outnumber dogs as pets in the US- 74 million to 70 million according to the American Veterinary Medical Association- there are many cats without homes that are brought to shelters across the country. And more keep coming. There are untold millions of community cats which may or may not be owned or cared for- including being spayed or neutered. Therein lies the problem- left to their own devices, like most other species, cats will reproduce again and again! That may sound shocking to some, and when environmental conditions are favorable, unspayed female cats can have three litters a year! Let's say those "intact" females have an average of 4 kittens/ litter- that would be twelve more cats from just one in twelve months! If only financial institutions could have such feline fecundity with our funds…
While many shelters are able to find homes for all their healthy adoptable cats, nationwide the numbers don't balance. Thankfully, many feral cat colonies are cared for by dedicated people who've had them spayed and neutered so the colony population stays stable (and healthier!) But in countless communities, because there's an oversupply and not enough demand (some people have not yet experienced the fun of owning a cat), the all-too-often sad result is that many cats are euthanized.
If you're a cat, would you rather go home to a family that feeds you, plays with you, cleans your bathrooms and takes you to the veterinarian at least once a year for a checkup, or live "on the streets" like a homeless person, foraging through trash cans and hoping that the soup kitchen is open? That's why cats boycott Mother's Day- there's just no reason to honor having more feline families!
This Sunday I'll be with my mother! I've already sent two Mother's Day cards and her roses arrived yesterday. I'd still like to get her one more "sweet" gift, though, and I have the perfect one in mind. We'll take a drive out to the county animal control and check out the cats up for adoption. There's a good chance we'll find a beautiful brown tabby with its signature cocoa-colored "M" on her forehead. Maybe I can persuade my mother to call her Lady Godiva…
February 13th, 2013
The Northeastern US has certainly received the brunt of natural disasters recently! Blinding blizzards, a horrific hurricane just a few months before that….and an untold number of animals displaced or forever lost because of a natural disaster.
Lost cats! A very scary situation. Dr. Colleran described her experience and what to look for in a previous felinedocs. com blog last month
Four months ago my own CAT Stanley became lost due to my own carelessness, and it's taken me a long time to be able to write about it. It was postcard-worthy late afternoon in Annapolis. Autumn was approaching and the air was crisp and clear, snapping the halyards and other lines on the sailboats still in their slips. The sun warming the water made the waves slap the bulkhead, gently rocking the boats back and forth. A perfect time for a boat ride, and a perfect day for CAT Stanley to get further acclimated to travel. Instead of a perfect day, it turned into a perfectly horrible day.
As a veterinarian, I work every day to promote the value of cats, espousing the need for keeping your cat indoors, having the proper identification and conditioning it to its carrier for travel. So even though I do all that- all my pets wear snug collars with ID tags and are microchipped-AND that afternoon he even had a harness and lead- he got out of his carrier. I had been working with CAT Stanley on travel conditioning by taking a leisurely ride in my old little putt-putt boat which he's been on before. We returned to the boat slip safe and sound, I went to the stern to tie up the boat for less than a minute, and when I turned around he was GONE! He had been seemingly so comfortable I'd neglected to properly secure the carrier flap. Nowhere to be found- not under the floor boards even after removing the attached seats, not along the docks and all around the boat yard…. that night was very long as I combed, roamed and called for him in a ten  square block area on both sides of the creek.  I could only imagine how frightened he must have been, and that made me both sad and very angry with myself.
Forty-six agonizing and unlucky days. Though, in a sense, through all that I felt lucky. After four reprints of various versions of scores of signs and flyers, feeding stations, friends, faith and "fingers crossed" were the only "f" words I used. And while fatigue was another, I choose to override it and any nagging negatives by keeping the desired outcome top of mind- for CAT Stanley to be back home again!
The outpouring and support of the community was uplifting and made me grateful to live where I do. "I saw your sign and I think I saw your cat…" was the most common theme of the countless cell phone calls. And surprise! There are several orange tabby and white cats around town, and a one or two even looked like CAT Stanley. One school child used his mother's phone and called me, breathless-"is your cat a kitten?" And after I told him Stanley was three, he texted me a picture of an adorable tiny orange tabby (no white) that you could hold in one hand- how sweet is that?
Others offered helpful suggestions. "Here's a link to the City Government Facebook page and they have over 56,000 friends…" Then another- "I know the person who manages the city's Facebook page and I'll have them share it..," "did you post him on Craig's list?" and even "beware of this old lady who traps stray cats…" And I'm really happy to report that our county animal control shelter is a model of efficiency and empathy- escorting me through the various cat holding and adoption rooms, helping me fill out the lost pet form, and lending me two Have-a -Heart traps. And even after three hunts with a scent tracking dog and her handler, I remained optimistic as I followed her lead  for placing the traps and a scent trail of items or material (even used cat litter!) related to Stanley's feline friends and me (excepting the cat litter…).
The situation also gave me an opportunity to walk around town and meet some wonderful people face to face. Almost everyone had seen the signs and most agreed to take a picture of the flyer with their cell phone so they would have the information with them in case they spotted CAT Stanley when they were out and about.  I especially remember one bittersweet conversation with a man on his evening run. "I've seen your signs and my wife and I have been keeping an eye out…." (Thank you!). And then his follow-up comment that smacked- "he'll probably be OK- cats can take care of themselves…" No, they can't! Cats need people was my initial response.  That's why CAT Stanley has a microchip (and have you seen that the UK is requiring all dogs get microchipped? Hopefully our day will come for dogs AND cats…)
Thankfully, I immediately recognized he was merely trying to make me feel better. But it gave me even more resolve to raise the bar for cat care and welfare in my own community and beyond.
So my vigil continued. I remained diligent and methodical, seeking, searching, calling and following up on every lead. And after forty-four days he was spotted- very close to the home that called me with the first sighting! Within two days he was back home- skinny, initially scared, with collar and tag intact. His housemates gave him the once-over and obligatory nasal-anal assessment (aka butt sniff), CAT Stanley ran upstairs to his favorite hangout, and all was good.
I'm a veterinarian and advocate for cats, and this still happened to me! I was lucky, and even with no "natural disaster" excuses such as snowstorms and hurricanes, tornados or fires, people need to be reminded that we all get careless.  Sometimes there are little or no consequences.  But sometimes the consequences are disasters and end up breaking your heart.
Don't wait for a disaster. If you haven't yet taken these steps,  please do them NOW:
Microchip your cat and register it! The apps and other support services are very helpful!
Keep current close up full-body photos on your computer
Make sure when outdoors they are fully supervised
Keep them current on their yearly exams, appropriate vaccines and parasite prevention program
Give them lots of love and care….so they will want to come home again.
We need cats…they need us!
December 19th, 2012
According to a 2011 PetFinder.com poll, 58% of people with cats give them presents for the Holidays and 37% of cat owners also hang a stocking!
Are we crazy, or just crazy about our cats? Or is this another way we can share and celebrate with those we love. Here are my favorite Top Ten Holiday Gifts for cats:
10. Toys:
Catnip toys are the obvious, and look for those made in the US with fresh, organically grown cat nip! Not all cats respond to cat nip- it appears genetics play a role in that- and it's worth trying different kinds and fresh vs. dried to see if your cat gets crazy or mellow. See more on toy safety in
Dr. Colleran's recent post.
9. Food:
As veterinarians, we've all heard the question "What's the best food for my cat?" Felinedocs.com have had several posts on feline nutrition; bottom line- it depends. On your cat's age, lifestyle, health status and preferences- each one is an individual and your veterinarian can offer the best proven options! And remember, cats are carnivores and must have some protein that's of an animal source. Grain-free diets have yet to be scientifically proven to be optimal for your cat's health and it seems intuitive so we hope those studies are forthcoming!
8. Treats:
It's important to positively reward good behavior ("good Callie, for jumping on your cat tree next to the kitchen counter…") and repetition of immediate reward will help shape good manners. As with food, be sure the company that manufactures them has quality control measures to help ensure their safely. And be mindful of added calories in treats; make sure you know what your cat's daily allotment is- somewhere in the range of 200-250 kcal per day for healthy adult cats- and find out just how many there are in those 15-20 Whisker-Lickens…
7. Toys:
Interactive toys that allow a cat to express its normal prey behavior are terrific and also provide exercise. Fishing pole type toys, lasers that shine a dot on the floor and walls, and even battery-operated toys that move- some in response to a cat's movement! Be sure to let your cat "catch" its prey periodically so it's "rewarded" for its activity.
6. New dinner plate:
Yes, as cute as those bowls with little fish painted inside, a flat dish or plate is preferred so their whiskers can remain straight while eating.
5. Water fountain:
cats like the movement of water and, like us, can benefit by drinking more. Several companies offer water fountains specifically for cats. I keep looking for one that's shaped like a toilet…
4. Cat tower or perches:
Cats like to go to high places so providing them with vertical height outlets will give them their own "space." Cat trees or towers come in a variety of designs so check on-line to see what your cat might like. Those which include sisal for scratching and hidey-areas can be very popular!
3. A cat-friendly carrier:
Just search the internet on "how to get your cat in a carrier" and you will get 3,330,000 hits in 0.3 second. What's important is to think like a cat. If it has two openings- front and top are best, if you provide soft bedding (that old fleece of yours is purr-fect- warm, soft and has the scent of "you"), if you keep it out, up and open and warm and let your cat use it as a hiding place (cats like to be off the floor, warm and have an "escape route" available), your cat will come to see its carrier as it's friend and not run and hide when you bring it in from the garage to go for a car ride. For more information on choosing a carrier and training your cat to it, watch this video –
"Cats and Carriers- Friends, not Foes."
2. Toys:
Did I already mention toys?? Studies have shown that environment enrichment is critical for your cat's health and well-being. So new toys, and rotating those they have, provide your cat with continual psychological stimulation. For more information on environment enrichment, visit the
Indoor Pet Initiative from the Ohio State University.
1. The gift of good health!
To ensure your cat lives a long, happy and enriched life, be sure your cat visits its veterinarian at least once a year- even if it seems perfectly fine! Cats give us so many gifts and we can give them the best quality of life "humanly" possible.
August 22nd, 2012
(THE COMFY SOFA, My House, Annapolis, Maryland) August 14, 2012—Saturday marks the beginning of National Take Your Cat to the Veterinarian week, and to celebrate, I thought I would share tips on making the trip to the veterinarian more pleasant for everyone.
As a cat, I totally sympathize with your cat; going to the vet can be stressful. In fact, disrupting my schedule for any reason is an offense to which I do not take kindly. But I have come to understand that semi-annual checkups are necessary to ensure I remain the lean, healthy, Adonis-like creature that I am. I am sharing the following tips to help your cat come to the same understanding:
I've said it before, but just in case you missed it, I will say it again. Get your cat to like its carrier. It can be done, and your cat will thank you for it because it will give him an additional place to snooze. My carrier is always left out and open with my favorite blanket it in, and I can frequently be found napping inside. Check out this video to learn what else you can do to help your cat get over its fear of the carrier.

You might want to consider finding a cat-friendly veterinarian. The American Association of Feline Practitioners has developed a program that certifies veterinary practices as "cat friendly," and has a list of them on their website. I love my cat-friendly veterinarian! She knows that I want to stay in my carrier if at all possible when she is examining me, and the waiting rooms at her practice are segregated by species so I don't have to come nose-to-nose with a curious collie while I'm waiting to see her.
Make the trip fun. I love hearing how wonderful I am. Even better, I love it when you pet me and reward me for how wonderful I am. Tell me and show me frequently during the trip that I am the most amazing creature in the world for putting on my brave face and allowing my schedule to be disrupted for a trip to the veterinarian. I'm a complete sucker for that.
Your cat is an important member of your family – I know I am – and, as such, needs regular preventive health care, no matter how much he or she may protest. Did you know that dental disease affects 68% of all cats over the age of three? That most cases of diabetes could be prevented if the 53% of cats that are overweight were on the proper food? A simple checkup can help detect and treat preventable diseases and conditions that can cut a life short. Yikes! It hurts to even type that.
Even if you can't get your cat into the veterinarian during Take Your Cat to the Veterinarian week, you can work on getting your cat used to its carrier and that make that important appointment for a preventive healthcare examination by your veterinarian. Some veterinarians even make house calls! So don't delay … you work on that appointment and I'll work on talking my owner into that house call thing. (Hmmm…never leaving bed. Sounds good.)
The CATalyst Council is a national organization which includes a wide variety of animal health and welfare organizations as well as corporate members of the animal health industry that are working together to improve the health and welfare of America's favorite pet. It was founded in response to troubling statistics released by the American Veterinary Medical Association that indicate an increase in our nation's pet cat population coupled with a decline in veterinary care for those cats. More information about the CATalyst Council is available at catalystcouncil.org.
For more information on CAT Stanley, including how he got his name, visit his section on the CATalyst Council web site.
August 14th, 2012
A recent report out of Georgia where participants hooked up cameras around the necks of 60 cats and permitted them to roam showed that 44% (around 27) of them hunted. Now this is not especially surprising since that's normal cat behavior, and we know that even the best-intended families can have their felines occasionally take a "walk on the wild side." But this report underscores that it's even more important to keep your cat healthy! Besides the deadly rabies virus found across the US (including a rabid bat on my front steps…), there are other diseases and problems which your cat could bring home in addition to the creatures which included lizards, snakes and frogs (41% of the hunters' prey), chipmunks and vols (25 %), insects and worms (20 %) and, less frequently, birds (which represented only 12 % of the prey of the hunting cats).
What can you do?
Keep your cat's indoor environment enriched with cat trees, perches, interactive toys and food puzzles.
If you do allow your cat outdoors, ensure that it's supervised on a harness and lead or in an enclosure.
Make sure your cat has complete identification including a collar with ID tags (and a bell if you think it may warn prey) AND permanent ID in the form of a microchip. Think your cat won't keep a collar on? Scientific reports show that most cats will.
For the health of your pets and your family, make sure your cat is on year-round parasite prevention. Even if your cat NEVER escapes, pesky parasites like fleas and ticks and the diseases they transmit can hitch a ride indoors on (or inside) other pets, people or a variety of critters. Flies, worms and crickets could be the secret passageway for parasitic or other problems. And remember, over-the-counter topical medications do not treat or prevent heartworms, hookworms and roundworms, and the latter two can cause devastating human illness! Visit the Companion Animal Parasite Council for more information, including a map of parasite disease incidence.
Celebrate Take Your Cat to the Veterinarian Week with Petfinders.com and tips from CAT Stanley of the CATalyst Council and call your veterinarian today to make an appointment for your cats! Your veterinarian will tell you what's the best food for your cat (and how much!), what vaccinations are needed for your cat's lifestyle, and tailor a parasite prevention program specific for your cat to help keep it -and your family- healthy and safe. And while your cat may not have ringing in its ears, ear infections are common as are other often unrecognized problems like dental disease, diabetes or kidney disease. By taking your cat to your veterinarian regularly for preventive health care, other conditions can be detected earlier to help with better outcomes.
If you need help finding a feline veterinarian in your area, visit the American Association of Feline Practitioners' web site at www.catvets.com.
June 3rd, 2012
It's June already, the grill's out and ready to go! OK, so you current cat avoids the barbie- and that's a good thing because it's dangerous! So while it's fun to think that your cat might become the household cook (and if any pet could it would be the cat since  dogs would just steal the food off the counter and eat it right then and there, wrapper and all), it's much better to think about getting a(nother) cat for fun, affection and entertainment.
June is Adopt a Cat Month, celebrated by the American Humane Association, American Veterinary Medical Association, ASPCA, CATalyst Council and petfinder.com. Here are the Top 5 Joys of Owning a Cat and now that you're convinced, check out the Top Ten Checklist for Adopting a Cat.  Cats are social animals, so a feline friend can be a great addition to your family- just do a little research in advance.  The best way to celebrate AND help your community is to visit your local shelter, look on their website, or check out petfinder.com or adoptapet.com to see what cat is in your area and which purrsonality is right for your household.
According to Jan McHugh-Smith, President of the Humane Society of Pikes Peak Region in Colorado Springs, adopting an older cat is especially rewarding.  "Adult cats are just big kittens with developed personalities.  They come in all shape, sizes and colors; you can adopt a cool cat, a lap cat, a fat cat.  Just adopt."
Your veterinarian can provide you information on how to proceed AND how to introduce a new cat (and check out the felinedocs blog post), and the veterinary team may even have some leads on some cats that need a loving home!
So start planning that summertime dinner party to celebrate Adopt a Cat Month! More chicken, please….
August 9th, 2011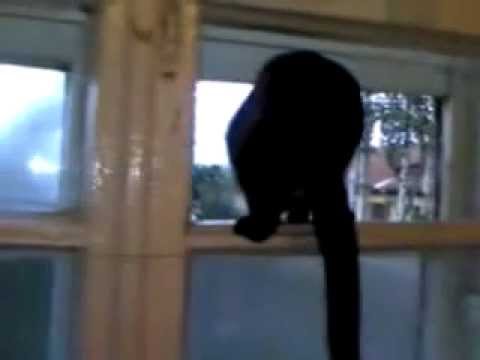 6,615,857 views and counting!
This barking cat has garnered the attention of the world! What's going on here-since you can't see the cat's face at first, is it a "bark-over?" No, when you look again and again ( I won't tell you how many of the 6,615,857 views are mine), you actually see the cat's body heave in  rhythm with the 'bark.' Or does he see an intruder out the window and is protecting his home? Mmmmm, probably not- since cats are both predator and prey, if there were something or someone that scary invading his territory, it would be normal for that cat to jump down from the open window and run and hide. So what's up with this guy's woof-woof? This poor kitty is actually coughing-and that's not normal! Some might say he's having a bad hairball day, and that's what's causing the bark/hack. Hairballs are NOT normal, and while urban legend and suppliers of hairball remedies and foods might suggest that, any good feline veterinarian will explain differently. He's hacking, and probably because of either a lung or intestinal problem. Perhaps he has feline asthma or feline heartworm disease (which is really lung disease). Regardless, this coughing cat needs to visit its veterinarian NOW. Before he goes into a crisis. His doctor will perform a thorough examination including looking in his mouth and throat, listening closely to his lung and heart sounds, feeling his intestines and other abdominal organs; even some x-rays may be in order. Once the reason for this awful, agonizing cough is identified and a treatment plan which both the cat and its owner can accomplish, then everyone will feel better- most importantly the coughing cat!
I really wish this cat were barking. Just imagine- if all cats would agree to bark, we might solve the overpopulation problem in a very short time. Or maybe not. And of course, isn't one of the pleasures about owning a cat and going to a cat-only veterinarian is that they're "bark-free?"
June 4th, 2011
"Doctor, she seems OK to me, but I see all these white specs on her back, she looks all rumpled, and she won't let me comb her at home…."
What did your veterinarian say about your cat's coat during the last checkup?
If your cat has dandruff, a dull or unkempt coat, that's just not right. Help is on the way!
With the exception of those darling Devon and cute Cornish Rex cats that look like they just came from the beauty parlor where they got a perm, or those velvety-skinned "naked"  Sphinx, a cat should normally have a smooth and shiny coat, and it should glisten when basking in a sunbeam and after your cat grooms itself.
What does it mean if your cat's coat is dull?
We know that cats normally groom themselves to keep their coat clean and to remove the dead hair. They have little barbs on their tongue that act just like a hairbrush that many of us use every day. If your cat isn't doing that, the dead hair will build up and can become matted, sometimes so severely they have to have their whole body shaved down to the skin!
Why does that happen?
There are many reasons your cat's coat might be lacking its luster:
Pesky Parasites – Even indoors cats get fleas and other parasites. Make sure your cat receives safe and effective monthly preventatives as recommended by your veterinarian for your cat.
Dental Disease – If you've ever had a toothache, you know that mouth pain can prevent you from doing your normal activities. And while you don't lick your skin, the same is true for cats, and dental disease is so common in our feline friends. Make sure your veterinarian checks for this and you follow their recommendations
Arthritis – 90% of older cats show signs of arthritis on x-rays- yet often don't show outward signs that we recognize. If it hurts to bend like they need to when giving themselves a 'tongue-bath,' they just won't do it!
Skin Irritations – can be caused by all different allergies- everything from pollens and other environmental allergens to parasite reactions to food and medicines.
Internal Illnesses – Stealth diseases like diabetes, intestinal problems and thyroid conditions can routinely cause problems with cats' hair and skin.
What should I do?
Don't guess or get your answers from "Dr. Google"- your veterinarian is the expert can perform a thorough examination of your cat which will find the reasons for dandruff, a dull or matted coat or any other external problems you can see. Then they can prescribe the best course of action or treatment– whether that's parasite treatment, special shampoo, a supplement or other medication; your cat is an individual!
Finally- remember, even if everything looks OK- just because you can see it, it's best to make sure  by having your veterinarian  examine your well cat twice a year- for life!