Tagged with " hairballs"
This story is one that I love to tell because it fortunately has a happy ending. It could just as easily have resulted in a tragic loss of a pet and a broken-hearted 6- year old. Pay attention and learn, cat lovers.
My patient, FB (short for Fatty Boy), was rushed in first thing Monday morning to my cat practice. His Mom, Ali, said he had been throwing up all last night and hadn't touched his breakfast. Ali had entertained some friends with children during the previous 2 days. She remembered that she spotted FB playing Barbies with her daughter and friends in her bedroom. We also learned that FB had a history of snacking on plastic bags. He generally was obsessive about eating not only as much food as he could steal from his 2 kitty housemates, but as many clearly desirable objects made of plastic, as well.
Once admitted to the clinic, we promptly took some blood samples and got FB in for x-rays. FB was drooling buckets the whole time. Cats do that when they're about to vomit, just like we do. I clearly saw two objects (foreign bodies) in the belly. One was in the stomach and the other one had moved further down into the small intestine. Both could cause complete blockages. In many cats, foreign objects that are swallowed move all the way down and are eliminated without consequences. We hospitalized FB overnight with iv support and treatments for pain and nausea. We would repeat x-rays in the morning and hope the objects would pass through uneventfully. The following morning, my assistant and I cheerfully poked through FB's litter box contents. While carefully shredding and hunting, I squealed as I struck hard stuff and I rinsed it off for display to all. It was a chewed-up piece of plastic that looked like bright blue gum but felt hard. It was not a recognizable object due to all the damage done before it went down the pipe. Still, our new x-ray showed that the foreign body in FB's stomach had not budged and the one in the intestines was the one we found. Now we had an emergency on our hands and we had to work quickly to get the object out and relieve the blockage in order to save FB's life. I was optimistic and hoped I could grasp and remove the thing through my endoscope so we could avoid surgery for FB. All attempts with my grabber through the scope yielded only tufts of white cat hair but I could see a solid black thing that was too large and slick to grab. We moved swiftly into surgery with FB just as the sun went down.
I felt sweaty and a little shaky in the OR as I waited for FB to be prepped and settled in. I began to explore the belly and sighed with relief as I peered inn and saw pink, shiny healthy looking tissues. Great news!
My feet and head ached and throbbed with fatigue as it was now dark outside and this day had been challenging. Then suddenly, all my discomfort slipped away as I gently extracted the mystery object and handed it to my assistant. He gently peeled off the hair obscuring the thing and underneath lay a perfect little tiny black dress shoe, a loafer, belonging to Ken, the doll. The litter loafer glistened in the surgical light, tiny and perfect and so cute. I was smiling ear to ear. We later learned that the blue thing found in poop that morning was Barbie's purse!
The take home message in this story is that some cats have obsessions involving textures or oral sensations. They tend to repeatedly eat things with a specific similar texture, like wool or string or plastic. In other words, cats don't "learn their lesson" when an object obstructs and endangers their life. We have the sacred responsibility to cat proof the homes of these kitties and always be aware of monitoring for materials or objects they might swallow.
How often does this happen to you? You are awakened from a sound sleep by the unmistakable sound of your cat about to cough up a furball on the comforter next to you. If you are lucky, you will be able to move kitty safely to the floor or be resigned to washing the comforter again! Many cat owners think that vomiting hairballs is normal behavior in a cat. But that is not always true. For example, one of my patients is Francis, a 14 year old handsome red and white tabby, who was diagnosed with diabetes several years ago. Up until last year Francis flourished, his weight went back to normal, his appetite was consistently good, and his litter box habits were regular. Then 6 months ago, Francis came in with a few days history of decreased appetite and vomiting. His physical exam was normal; his basic blood tests and urinalysis were normal. A few days later Francis vomited a furball. His owner was happy figuring this was the reason for the symptoms. Over time his weight began to decrease, and he intermittently repeated his pattern of exhibiting a poor appetite and then a few days later vomiting a furball. Additional blood tests and an abdominal ultrasound indicated the possibility of pancreatitis and/ or inflammatory bowel disease as the cause(s) of his symptoms. For now, we are keeping a close eye on Francis. If his condition changes, we will discuss confirming this diagnosis by biopsy and possibly diet changes and medication to treat those diseases.
To his owner, Francis was just having furball trouble. To his doctor, Francis' furball vomiting was an indication of an underlying problem. Why was I suspicious? A review of Francis's history indicated that he was vomiting furballs much more frequently than he had in the past. Vomiting furballs more often, particularly in a middle aged or older cat – even as the only change in a cat's behavior; can be an indication that something is amiss. Either Francis was ingesting more fur because of increased grooming activity – meaning itchy skin (see recent post), or there was a change in the way food was moving through his upper digestive system. There are multiple reasons why this might have happened. Chronic inflammatory disease is the most common explanation. Pain or hormonal changes can also result in alterations in intestinal movement. Just as with Francis, a visit to your veterinarian is a good place to start to rule out an underlying problem.
A few months ago Francis' owner told me, " You were right doctor". What he meant was that he had been skeptical when I had expressed my initial concerns that Francis' vomiting reflected more than just furballs. Francis' owner is a loyal reader of this blog. When he was in the other day, he suggested that I write about furballs. He had overheard a comment between cat owners that furball vomiting was routine ( i.e. normal). He now knows that it isn't necessarily so. He asked that I write about furballs to educate other cat owners about this situation. I am happy to oblige.
I like fleece more than any other bedding material. And there is research to prove that cats prefer fleece over towels and other bedding material.
Even if I hate the other cats in our home, I usually won't get into a cat fight with them. Instead I will try to avoid them, even if it means that I need to pee on the carpet instead of passing them to get to the litter box. That's because I need to keep myself protected and healthy just as my wild ancestors did because I am a great hunter.
If I pee on your carpet, clothes, or bed, please, please, please don't get rid of me at least until you have taken me to the vet to make sure I am not sick. If I am not sick, please talk to a vet who knows a lot about cat behavior or a behaviorist about what kind of litter and litter boxes I want, and how to give me space away from that other cat you love and I hate, or whatever else is upsetting me.
If I am like most cats, I get bored and pudgy (58% of cats in the US are overweight or obese!) if I don't work for my food. I am a great hunter, and I like to chase my kibbles, find hidden kibbles, and eat canned food. You might think canned food is like a treat, but it really is closer to what my wild ancestors ate (I am trying not to gross you out, but that is mice), and is much lower in calories because it is 70-80% water. I may act like I want to eat all the time, but that is because in the wild, I spent most of my time hunting and a much smaller time eating. If you take my hunting away – chasing food, finding it in hidden places, frequent and small meals a day – I eat more, and I may beg for more, but really I want more hunt, which can also be called play. Please don't make me pudgy – you may think I look cute, but it makes me sluggish, and I don't want to be diabetic. There has been a 16% increase in diabetes in cats between 2006 and 2010 because we have become so pudgy. Cat vets – and many others – know about safe weight loss (losing weight quickly can make cats so sick that it can be deadly). Please help me!
If I lick to groom another cat or they lick me, or if we cuddle or sleep together, we are bonded and like each other. However, even best buds nead their space, and approximately 50% of the time, I like to be alone. And I often don't want to sleep with my buddy in the hot summer – yuck! One fur coat is enough!
I absolutely hate it when you say I am old! There are people who are healthy in mind and body into the 90s and 100s even! If I am slowing down, I am in pain from arthritis or something else, or I am sick. Please take me to the vet no matter how hard I resist. And if they can't help, find a vet that can!
My favorite toy is a USED hair 'scrunchy' or pony tail holder. Don't worry if you are a guy, bald, or with very short hair. Just rub it on your head and get your scent on it and voila – it is a used scrunchy! Please note that if I like to eat things other than food that the scrunchy should be tied onto a string and only used when you help me play with it.
I don't cough up hairballs on a routine basis – see Why does my Cat Vomit? and Hairballs. It may happen once a month or two (don't laugh, my hairless Sphynx friends!), but more frequently than that and there is something wrong. If it is right after eating, I eat too fast, and all you need to do is spread my food out on a flat plate so that I don't mow it down too fast. But if I continue or it isn't related to that, it's likely that I have a health problem, and need a vet to help.
As a cat, I am supposed to appear healthy to protect myself from dangers, including bigger hunters than me. So even though I act like I don't want to go to the vet, it is because I hate change – unless I instigate it! – and I am scared (and I may act tough because I don't want anyone else to know it!). I want to be with you forever or at least as long as possible and always be comfortable and happy, so please take me to the vet to learn how to prevent the health problems that I don't need to have including those awful bugs and worms, and to control health problems that I may get, and make sure I am never in pain. I am purrfect and don't deserve to ever be in pain.
I love you when you do what I love, and because you are awesome!
A wet, sloppy kiss from a dog can be like a gentle, warm embrace, but when our cats get friendly and try grooming us, the sensation is decidedly different!
Why do cat tongues feel so rough and harsh?  My three cats love to lick, and when they get going, it can feel almost like they are scraping through the skin.  You have to admire their commitment to keeping mom clean and well-groomed, but a little of that kind of licking goes a long way!
The reason our cats have such abrasive tongues is because the tops of their tongues are covered in tiny barbs.  These backwards-pointing hooks help carry food or whatever our cats are eating down the throat and into the stomach.   All members of the feline family, from big tigers to tiny domestic short hairs, have barbs on their tongues.  And although I've never been licked by a lion or tiger, I'd imagine the sensation would be size-appropriate and significantly amplified.    The skin scouring this would cause might make a big cat assume that there is more than one way to skin a human!
One other function of those barbs on our cats's tongues is to help with grooming and keeping their coats tidy.  Cats are incredibly fastidious—it's not unusual for your cat to spend upwards of one third of their waking hours grooming and keeping themselves clean.  In fact, if cats have fleas or lice or other parasites of the skin, they actually can consume a very large percentage through that meticulous grooming, which means that even if your cat has fleas, it can be difficult to find one!
Cats who have allergies are often itchy, and they sometimes lick excessively to try and relieve that itch.  The barbs on the tongue can literally shave hair off—sometimes it seems as though your cat can become bald overnight—and your plush feline can suddenly start resembling an action hero with three-day stubble.
We're all familiar with hairballs, and the reason cats can have problems with them is that when they groom themselves (or their other cat buddies!), the barbs on their tongue snag the hair and physically move it down to the back of the throat, where the hair gets swallowed and transported into the stomach.  Depending on how much hair gets ingested and how irritating it is in the stomach, a cat might hack it up as the oh-so-familiar hairball, or the hair can pass through the other end via defecation.
The barbs on a cat's tongue are formed by keratin, which is a fibrous protein structure that is present in skin, hair and nails.  Keratin is very tough, and that is why a cat's tongue feels so rough—the barbs hold their shape when rubbed against something, much like a fingernail does.  Keratin is one of the strongest substances in the animal kingdom, and just like your own fingernails, those barbs on your cat's tongue will never get dull or soften over time.
Another interesting tongue tidbit is that the barbs might play a role in whether a cat likes a certain food or not.  The shape of food affects how the tongue reacts to it, and that is why dry cat foods come in so many different shapes and forms.  Some cats like rounded shapes, while others seem to prefer more squared edges.  With wet food, some cats prefer the sloppier textured foods, and others seem more drawn to the pate varieties.  Cats use their tongue to pick up foods, and the barbs affect how the food sits on the tongue.
Barbed and ready for action, the fascinating and unique cat tongue is just one other reason why our favorite species is so special!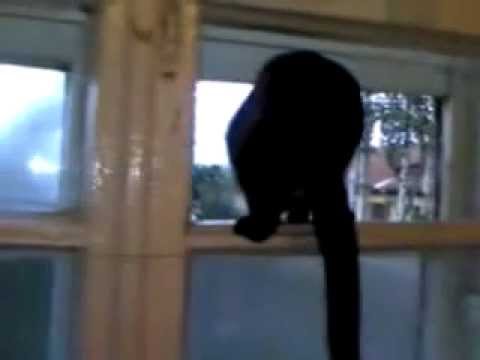 6,615,857 views and counting!
This barking cat has garnered the attention of the world! What's going on here-since you can't see the cat's face at first, is it a "bark-over?" No, when you look again and again ( I won't tell you how many of the 6,615,857 views are mine), you actually see the cat's body heave in  rhythm with the 'bark.' Or does he see an intruder out the window and is protecting his home? Mmmmm, probably not- since cats are both predator and prey, if there were something or someone that scary invading his territory, it would be normal for that cat to jump down from the open window and run and hide. So what's up with this guy's woof-woof? This poor kitty is actually coughing-and that's not normal! Some might say he's having a bad hairball day, and that's what's causing the bark/hack. Hairballs are NOT normal, and while urban legend and suppliers of hairball remedies and foods might suggest that, any good feline veterinarian will explain differently. He's hacking, and probably because of either a lung or intestinal problem. Perhaps he has feline asthma or feline heartworm disease (which is really lung disease). Regardless, this coughing cat needs to visit its veterinarian NOW. Before he goes into a crisis. His doctor will perform a thorough examination including looking in his mouth and throat, listening closely to his lung and heart sounds, feeling his intestines and other abdominal organs; even some x-rays may be in order. Once the reason for this awful, agonizing cough is identified and a treatment plan which both the cat and its owner can accomplish, then everyone will feel better- most importantly the coughing cat!
I really wish this cat were barking. Just imagine- if all cats would agree to bark, we might solve the overpopulation problem in a very short time. Or maybe not. And of course, isn't one of the pleasures about owning a cat and going to a cat-only veterinarian is that they're "bark-free?"
What cat owner doesn't occasionally come home to a surprise pile of vomit, usually on their best chair or Persian rug?
It is not unusual to see a hairball every so often even when we think we are being diligent about brushing and grooming our cats. Cats shed their hair based upon both increasing daylight hours and warmer temperatures so consequently, indoor cats may shed all year round. For long-haired cats that tend to shed and form mats in their coats, clipping hair from the underside and backside (sanitary clip) can cut down on unpleasant grooming at home. Lion shaves are also recommended to reduce hairballs in long haired cats.
Stress such as a move to a new household, introduction of a new pet, construction or seeing outdoor cats through a window can increase shedding.  Most importantly, internal or external parasites (worms or fleas), skin disorders or any illness can cause your cat to excessively lick or groom themselves or to lose more hair than usual. If your cat is vomiting hairballs more frequently than usual, a visit to the vet is important!
For long-haired cats that tend to shed and form mats in their coats, clipping hair from the underside and backside (sanitary clip) can cut down on unpleasant grooming at home. Lion shaves are also recommended to reduce hairballs.
Vomiting dry food eaten too quickly is a common problem because a cat has a very sensitive gag reflex. Try feeding multiple small meals and separating cats that eat quickly in an effort to compete for food.
Vomiting food, brown liquid (bile) or foamy clear fluid (saliva) more than once a week is not normal. A thorough physical exam followed by blood and urine tests will help us detect diseases such as diabetes, kidney disease or hyperthyroidism that could be causing vomiting. Dehydration itself may be life threatening so subcutaneous or intravenous fluids and injections to stop vomiting might be required right away to get a cat through a vomiting crisis. Once the patient is stable, further testing can be done to establish an underlying cause. A feeding trial may be suggested to determine if a food hypersensitivity or allergy is contributing to the problem. X-rays are used to determine whether a foreign object, tumor or obstruction is affecting the stomach or intestines.
If these baseline diagnostic tests don't lead to a diagnosis and the vomiting persists, ultrasound of the abdomen may give clues as to diseases and samples can sometimes by collected with a tiny needle under ultrasound guidance.  A pathologist can then review slides containing the collected cells for diagnostic clues.
Endoscopy is a non-invasive technique for collecting biopsy samples from the stomach and intestinal linings. These tiny tissue samples allow differentiation between an inflammatory process and cancer. A long flexible tube containing fiberoptic bundles is passed into the cats' mouth under anesthesia and is slowly advanced through the esophagus, stomach and upper small intestine. A flexible tool is passed through a channel in the scope that snips out tiny pieces of tissue while the scope operator is visualizing the site.
At times, the best and most direct way to diagnose a disease of the digestive tract is by doing an exploratory surgery of the abdomen.  The advantage is direct visualization of organs and masses as well as a means of collecting good tissue samples for biopsy.
Please schedule an exam if your cat is suffering from vomiting.