Tagged with " heartworm"
My three cats never leave the house, and it was easy for me to assume that they couldn't possibly get infected with parasites, because how would they get exposed?  I am ashamed to admit it, but my own preventive parasite control routine with my boys was less than ideal.
That changed the day I diagnosed my best friend's inside cat with heartworm disease.  I felt a little less than professionally competent when I thought about the number of times I'd been bothered by mosquitos inside my own house, and then realized that any one of those mosquitos might have been carrying heartworm disease.  Why in the world did I think that inside cats were magically immune?
Cats today might not eat off a silver spoon, but they generally lead much more pampered and comfortable lives than their ancestors ever imagined.  Gone are the days of fighting to survive!  Our cats are so far removed from the daily struggle to find food and avoid enemies that it's easy to think that they have nothing to worry about.
But are they really safe?
Parasites are everywhere, and entire melting pots of potential pathogens, including parasites, can and do reside quite happily inside and on our treasured house cats.  Our challenge is that even though we know that life rarely exists in an impermeable and sterile bubble, the concept of parasite control for an inside cat is not intuitively natural.  For many of us, we simply don't think that the element of risk is enough of an actual threat to take action.  Even when we know that some of the common and preventable parasitic diseases can be transmitted to people, we still resist using preventives.
I'm just like anyone else, and if I can't see something physically, like a jumping flea or a worm in my cat's poop, it makes it more difficult to believe that it exists.  Human nature?  Who knows?  And doubly crazy when I know just as well as anyone else that there are many problems that are effectively invisible, like a high cholesterol level.
Preventive medicine is a time-honored concept.  It is the philosophical backbone behind the use of vaccines, and maybe closer to home, it is the support for wearing a seatbelt when we take the car out and brushing our teeth to prevent decay.  For some parasitic diseases—like heartworm disease—the risk of one exposure can be death.  For others, exposure is more of a nuisance or irritation.
Many cats have very fluid lifestyles—they might spend most of their time indoors, but occasionally sun themselves on the back porch, or they live with animal housemates who go outdoors, or they go outside when their owners vacation at the beach cottage.  And there are true indoor-only house cats who love to kill and consume bugs.  Insects can be transmission agents for some of the more common intestinal parasites, so it makes perfect sense to do yearly fecal checks on indoor cats along with broad-spectrum parasite control.  Anyone who's been plagued by a buzzing mosquito or housefly knows how easily flying insects can gain access to even the most well-secured house. Heated, humidified homes can also be terrific breeding grounds for fleas, as well as a place of refuge for flea-carrying rodents.  Ever get mice in your house?  We do, and our cats think it is party time.  Beyond fleas, mice can carry other parasites that can infect your cat.
How else can our indoor cats get exposed to parasites?  Just think about what happens when we're doing yard work or gardening and then come inside.  Shoes, gloves and clothes covered in contaminants fresh from the parasite reservoir that exists in most suburban yards are now in perfect position to inadvertently expose our feline friends.  My cats like nothing better than to rub all over my sneakers—the smellier and dirtier the better—and take in the spoils of the great outdoors.
As veterinarians, we are concerned about the welfare of our feline patients.  Cats are enormously important to their families, and provide tangible health and happiness benefits.  It seems the least we can do is to implement safe and effective preventive healthcare measures that take into account the cat's unique role and special needs.  Parasite control is an integral part of any wellness program, and year-round preventive use makes complete sense for today's cat.
I don't ever want to say to another friend, "Sorry, I just didn't think he was going to get infected, so it seemed silly to give him a preventive."
If you're interested in the down and dirty of parasites and your cat, the Companion Animal Parasite Council has excellent information on its website, www.petsandparasites.org.
Recently one of our clinic kitties, "O'Malley", began vomiting and losing weight. In addition to blood work and fecal testing, we started a food trial on him. We initially saw improvement in both his weight and vomiting, but after 6 months, he began to show signs again which caused us to investigate his "compliance". Below is a discussion of food trials, including reasons and pitfalls.
Cats can have reactions to food causing gastrointestinal signs (vomiting, diarrhea, decreased appetite, weight loss), sometimes skin signs (excessive licking or scratching, hair loss, skin irritations and lesions on the skin, lips, paw pads or ears), and even respiratory signs (coughing , wheezing, trouble breathing, asthma signs). Interestingly, allergies are not typically associated with sneezing or runny eyes in cats the way we think about it in people.
The reactions can be true allergies (involving an immunologic response) or non-immunologic (food poisoning, reactions to toxins or additives in the food).
Diet trails are recommended by your veterinarian to see if your cat's clinical signs improve or resolve once the diet is changed. Trials can take anywhere from 2-12 weeks to see response. Blood testing for allergies measures levels of immunoglobulin E (Ig E) and is not accurate for food allergies or sensitivities because not all allergic reactions are mediated by IgE, nor or all food reactions mediated by the immune system.
The diets that are recommended may be single source protein and carbohydrate diets that your cat has never eaten or hydrolyzed protein diets (where the proteins are broken down so tiny as to not cause a reaction). A veterinary therapeutic diet is recommended because over the counter diets are often not pure and can still contain protein sources to which your cat has previously been exposed.
Pitfalls include supplementing your cat with treats or other food sources to which he is still sensitive or allergic to, feeding over the counter diets, cats not wanting the new food, or cross reaction between the protein in the recommended diet and a protein to which your cat is sensitive. Examples might be turkey cross-reacting with a chicken allergy.
You may need to keep your cat indoor to ensure he is not scavenging food at the neighbors' and you may need to use dry kibble or baked canned of the prescription diet as treats so that visitors will not be tempted to feed your cat non-prescription treats. All medications should be checked to make sure they do not contain proteins in the liquid or capsule that could create reaction. This includes heartworm and flea medications.
In some cases you may chose to cook a homemade diet for your kitty. If so, it is recommended you consult with a board certified veterinary nutritionist to formulate your cat's diet. Check the acvn.org website to find a nutritionist in your area.
So, what happened to O'Malley? Well, we ruled out clients and staff members as a source for "supplementation" of his diet and performed an abdominal ultrasound on him. The findings indicate some intestinal and liver disease that did not show up on blood work and is worsening despite the food trial. He is scheduled to have biopsies of his in the next week and we will keep you posted on his case!
This is the story of my wonderful cat, Pumpkin and how I lost him- a happy, healthy cat, at such a young age. I know now that I should have tried harder to prevent the disease that ultimately took him. As a veterinarian, it especially pains me to know that he died of a preventable disease. Unfortunately, this happens to cats every year. My hope is that, by sharing our sad story, others can avoid the same fate.
Pumpkin came to us through our hospital's adoption program. He was a healthy little kitten in need of a home. Although we aren't supposed to have favorites, he was mine. He grew to a small, fluffy orange tiger with a sweet, outgoing and gentle nature. His one challenge was that he refused to eat the monthly chewable heartworm preventive (Heartgard). At the time, topical preventives were not available, and there was still much we didn't know about feline heartworm disease. Although my other cat would gladly eat the whole box if I let him, I could not get Pumpkin to take the medication easily, so I was lax with forcing him to take it.
One day, when Pumpkin was four years old I came home from a quick run to the store to find him lying on the floor, taking his last breath. I ran to him and tried to resuscitate him, but it was too late -he was already gone. How could this be?! He was fine a half hour ago. He was young and healthy and was in the house with no sign of trauma. He was still so cute and sweet, but gone. In shock, we sadly said our goodbyes.
I brought him to the University of Connecticut to be examined. I had to know what had happened and if my other cat was in danger. After an extensive examination all they found was one adult heartworm- small, but enough to kill him. That was it.
Feline Heartworm disease is much different from heartworm disease in dogs. It is often difficult to detect, almost impossible to safely treat, and disease symptoms vary greatly. While some cats infected with heartworm may have frequent coughing or vomiting, one of the more common signs is sudden death. Heartworm has been diagnosed in all 50 states and indoor cats are not immune to the disease. In one study, almost one third of cats with heartworm disease were indoor only cats. The good news is that it is almost 100% preventable with safe monthly medication.
As pet owners, we decide what care our pets get: what risks we are comfortable with and what dangers are unacceptable and keep us up at night. As a feline veterinarian, my job is to make sure each of you know what dangers your cats face and how to avoid these. Luckily, when it comes to preventing Heartworm disease, we now have several options, including safe and effective topical medication for finicky cats like Pumpkin. I urge all cat owners to make Heartworm disease an unacceptable risk. Losing a beloved pet is difficult. Knowing the death was preventable is tragic.
More information can be found at http://www.knowheartworms.org and http://www.heartwormsociety.org
Most people remember the joys of growing up and either being tormented  by disgusting boys throwing dead worms at you, or being the disgusting  boy enjoying tormenting the object of their grade school affection.  Consequently, the thought of worms tend to hold a fair amount of  emotion for many of us. We cannot believe that our much loved indoor  cat could possibly acquire worms. BUT our indoor cats frequently have  worms and other parasites. How could this occur?
99% of all kittens become infected with roundworms from the mother  cat, through nursing and through contact with her stool. Some of these  roundworms will encyst and become dormant in the muscles and will not  be destroyed by dewormers. When the cat's immune system becomes  stressed from illness, pregnancy or even aging, some of these juvenile  roundworms will activate and migrate to the intestinal tract and start  reproducing. Also, contact with potting soil can infect cats with  roundworms. In a recent study 15% of potting soils were found to carry  roundworm eggs.
Many cats will chase and consume insects such as moths and beetles  which also can carry a variety of parasites. Indoor cats who are  mighty hunters and catch mice that sneak into the house especially  with the advent of cold weather often eat their prey and become  infected with tapeworms. Even the most sedentary of indoor cats can  become infested with fleas as fleas can come indoors via hitching a  ride with the household humans. When cats groom the fleas off they  swallow them and become infected with tapeworms.
Last but not least, in most areas of the country mosquitoes carry  heart worm larvae. Mosquitoes get into many homes – who has not been  irritated by that annoying buzz? Heartworm infected mosquitoes bite  the indoor cats who then develop heartworm disease. Heartworm disease  can cause asthma type symptoms,or even cause fatal heart and lung  disease.
So, protect your indoor cat from these parasites and give your cat a  monthly parasite preventative from your veterinarian such as  Revolution or Advantage Multi, and deworm your bug and rodent hunting  kitties 3-4 times a year with a tapeworm dewormer!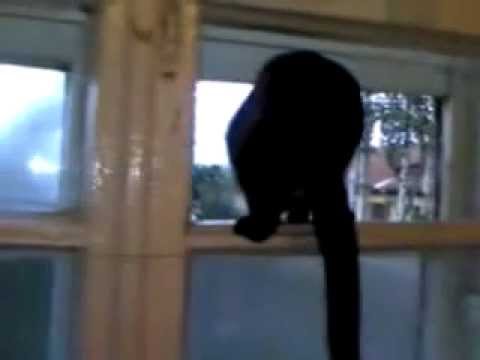 6,615,857 views and counting!
This barking cat has garnered the attention of the world! What's going on here-since you can't see the cat's face at first, is it a "bark-over?" No, when you look again and again ( I won't tell you how many of the 6,615,857 views are mine), you actually see the cat's body heave in  rhythm with the 'bark.' Or does he see an intruder out the window and is protecting his home? Mmmmm, probably not- since cats are both predator and prey, if there were something or someone that scary invading his territory, it would be normal for that cat to jump down from the open window and run and hide. So what's up with this guy's woof-woof? This poor kitty is actually coughing-and that's not normal! Some might say he's having a bad hairball day, and that's what's causing the bark/hack. Hairballs are NOT normal, and while urban legend and suppliers of hairball remedies and foods might suggest that, any good feline veterinarian will explain differently. He's hacking, and probably because of either a lung or intestinal problem. Perhaps he has feline asthma or feline heartworm disease (which is really lung disease). Regardless, this coughing cat needs to visit its veterinarian NOW. Before he goes into a crisis. His doctor will perform a thorough examination including looking in his mouth and throat, listening closely to his lung and heart sounds, feeling his intestines and other abdominal organs; even some x-rays may be in order. Once the reason for this awful, agonizing cough is identified and a treatment plan which both the cat and its owner can accomplish, then everyone will feel better- most importantly the coughing cat!
I really wish this cat were barking. Just imagine- if all cats would agree to bark, we might solve the overpopulation problem in a very short time. Or maybe not. And of course, isn't one of the pleasures about owning a cat and going to a cat-only veterinarian is that they're "bark-free?"
As I was reading a story in the life style magazine of the paper, I came across an ad proclaiming the virtues of "natural" flea repellents. Having just been inundated by a ton of cats with fleas the week before, I was inspired to write about fleas, flea products and to help dispel a myth or two. I'd had some clients who had been using an herbal flea collar that did nothing and made the cat smell like a volatile oils factory.  Poor kitty was still crawling with fleas.
Now I've gone through acupuncture training and some herb courses, and know that there are some things in that arena that can be very helpful and work well for a variety of medical conditions. But I also know that just because something says "natural" doesn't mean that it's safe or effective. Most herbal flea products contain things like cedar oil, peppermint oil, clove oil, and other things that say "natural pyrethrin". They can have a very strong smell that can last for days. That can be tough for an animal that is as sensitive to smells as cats are. Volatile oils can aggravate breathing problems; this is especially true of cedar oil. Stay away from these products if your cat has a history of breathing problems. Clove oil is toxic to cats. Skin reactions are common with all these products, especially if they are not pure. Oils are sometimes absorbed through the skin and peppermint oil can go deep. People who ingest peppermint oil on a regular basis might get changes in their liver enzymes.
When it comes to parasite control, we live in a wonderful age. The products that come from the vet for flea control have a very high margin of safety. They can contain not only safe flea products but also a heartworm preventative that helps with intestinal parasite control. Our pet cats have the dubious honor of surpassing dogs in the incidence of intestinal parasites and positive heartworm tests. All this because dog owners are so good at using  their heartworm preventative and cat owners aren't. And yes, those products can be smelly too, but usually just for a few hours. And yes, again, there will be the rare skin reaction. But the important thing is that they work great and have a well documented safety margin. They keep your family safe too. Those black specks of flea dirt have been shown to carry the bacteria that gives people, especially children, cat scratch disease. Control the fleas and you control the risk. Same for roundworms. They can get into people too.
Treating fleas requires a multi-modal approach. You need to treat the adult fleas on the animal, but also any eggs that they lay. If the problem is bad enough, you may need to treat for eggs that are in the house. Adult fleas aren't the problem in your house, the eggs are. You treat them differently. Control the egg production and you control the problem.  It can take 6 – 8 weeks before you can be sure that you've got the problem licked. That's because you have to wait long enough to be sure no new fleas are hatching out. Talk to your vet about what's going to work the best for you. And if you can use one product that can help with fleas, heartworm and intestinal parasites, do it.
Keep in mind that Mother Nature has some very potent plants and just because they're hers, doesn't mean that they are the safest things. So be careful what you put on your cat and whose advice you listen to.