Tagged with " homepost"
This is the story of my wonderful cat, Pumpkin and how I lost him- a happy, healthy cat, at such a young age. I know now that I should have tried harder to prevent the disease that ultimately took him. As a veterinarian, it especially pains me to know that he died of a preventable disease. Unfortunately, this happens to cats every year. My hope is that, by sharing our sad story, others can avoid the same fate.
Pumpkin came to us through our hospital's adoption program. He was a healthy little kitten in need of a home. Although we aren't supposed to have favorites, he was mine. He grew to a small, fluffy orange tiger with a sweet, outgoing and gentle nature. His one challenge was that he refused to eat the monthly chewable heartworm preventive (Heartgard). At the time, topical preventives were not available, and there was still much we didn't know about feline heartworm disease. Although my other cat would gladly eat the whole box if I let him, I could not get Pumpkin to take the medication easily, so I was lax with forcing him to take it.
One day, when Pumpkin was four years old I came home from a quick run to the store to find him lying on the floor, taking his last breath. I ran to him and tried to resuscitate him, but it was too late -he was already gone. How could this be?! He was fine a half hour ago. He was young and healthy and was in the house with no sign of trauma. He was still so cute and sweet, but gone. In shock, we sadly said our goodbyes.
I brought him to the University of Connecticut to be examined. I had to know what had happened and if my other cat was in danger. After an extensive examination all they found was one adult heartworm- small, but enough to kill him. That was it.
Feline Heartworm disease is much different from heartworm disease in dogs. It is often difficult to detect, almost impossible to safely treat, and disease symptoms vary greatly. While some cats infected with heartworm may have frequent coughing or vomiting, one of the more common signs is sudden death. Heartworm has been diagnosed in all 50 states and indoor cats are not immune to the disease. In one study, almost one third of cats with heartworm disease were indoor only cats. The good news is that it is almost 100% preventable with safe monthly medication.
As pet owners, we decide what care our pets get: what risks we are comfortable with and what dangers are unacceptable and keep us up at night. As a feline veterinarian, my job is to make sure each of you know what dangers your cats face and how to avoid these. Luckily, when it comes to preventing Heartworm disease, we now have several options, including safe and effective topical medication for finicky cats like Pumpkin. I urge all cat owners to make Heartworm disease an unacceptable risk. Losing a beloved pet is difficult. Knowing the death was preventable is tragic.
More information can be found at http://www.knowheartworms.org and http://www.heartwormsociety.org
We've set our clocks forward and have seen crocuses poke their heads up from the frozen earth, and the first thing that many of us want to do is to celebrate spring with some lovely, fragrant lilies – especially the beautiful white trumpet-shaped Easter lilies that appear everywhere this time of year. Unfortunately, for those of us with cats, this is probably the worst way to usher in good weather.
Easter lilies (Lilium longiflorum) are incredibly poisonous to cats. Well, all lilies, really – Tiger Lily ( Lilium henryi and lancifolium spp.), Day Lily (Hemerocallis spp.), Asiatic lily (Lilium asiatica), Stargazer lily (Lilium orientalis) and the rest of the Lilium family. (Not sure if you have a lily? Wikipedia has images of many of the lily species which will help with identification.) All parts of the lily plant are dangerous, including the flowers, stamens, stems, leaves and roots – even the pollen. If a cat gets pollen on its coat and then grooms, it could still cause fatal illness. Cats that get pollen on themselves should be thoroughly bathed as soon as possible.
Most of the time, we only know that a cat has eaten a lily because some part of the lily appears in a very inconveniently placed puddle of vomit. Many people may even initially write it off, thinking, "Oh well, Fluffy got into the spider plant again. Guess I'll go get the carpet cleaner." (Spider plants are non-toxic, by the way, so Fluffy can eat away at them all she likes!) However, when it comes to lilies, it is imperative that you seek emergency medical treatment for your cat as soon as possible to ensure proper and effective treatment. In approximately 2-4 days after ingestion of the plant, your cat may begin to show signs of kidney failure. If enough toxin is absorbed to cause acute kidney failure, then the likelihood that your cat will respond to treatment is poor.
A cat affected by lily intoxication will initially show signs of an upset stomach (gastritis): vomiting, a lack of interest in food and lethargy. These initial signs may appear within 2-12 hours of ingestion and may disappear after 12 hours. The cat may improve briefly or appear to act normal before the condition progresses to serious acute renal failure within 48 to 72 hours.
Once a cat's kidneys have been damaged to the point of failure, they will show a variety of signs such as lethargy, vomiting, increased thirst, and urinating large quantities (in some cases, urine production may stop altogether – anuria). Affected cats are also likely to be dehydrated. If left untreated, death can occur in as little as 3 days.
Diagnosis and Treatment:
There is no "lily poisoning test", diagnosis is usually made due to someone witnessing the cat eat the lily or vomit part of the plant. Blood tests that check the kidneys (BUN and creatinine levels) will help confirm ingestion, though severe increases are not likely to be seen immediately. If your cat's kidney values are normal after eating part of a lily plant, this is GOOD! It means that treatment is more likely to be successful.
Within 6 hours of exposure, depending on how quickly the cat is brought to the veterinary hospital, doctors and staff may try to induce vomiting and/or give medications to prevent further absorption of the toxin. Even if blood values are normal and the cat vomits up the lily parts you will likely be advised to hospitalize your cat for monitoring and IV fluid administration for a minimum of 24 hours. If your cat is treated immediately after ingestion, prognosis is good.
Up to 48 hours post-exposure, immediate hospitalization and intensive IV fluid therapy will be recommended. The length of time that your cat will need to be hospitalized depends on how badly his kidneys have already been affected, and how he responds to treatment. Prognosis is guarded to poor – mild to moderate kidney damage may be permanent.
Two to four days post-exposure, depending on laboratory testing of the kidneys, humane euthanasia to end suffering may be the only option. Prognosis is very poor – severe, irreversible kidney damage may result in the inability to produce urine. Left untreated for longer than 18 hours, one can expect death in almost 100% of cases.
If you or anyone in your household suspects that your cat may have ingested any part of a lily, no matter how small, please seek immediate veterinary attention. Hesitation may mean the difference between life and death for your cat!
| | |
| --- | --- |
| Calla Lily | Peace Lily |
Note: While Calla lilies (Zantedeschia aethiopica) and Peace lilies (Spathiphyllum spp.) are not true lilies, they are still toxic to a lesser degree and can cause oral irritation, intense burning and irritation of mouth, tongue and lips, excessive drooling, vomiting, difficulty swallowing
| | |
| --- | --- |
| Lily of the Valley | Peruvian Lily |
Lily of the Valley (Convallaria majalis) is also not a true lily, however, it is also toxic and can cause vomiting and cardiac problems such as irregular heart beat, low blood pressure, disorientation, coma, and seizures. Peruvian lily (Alstroemeria spp.) is another lily to be aware of. While many florists advertize it to be non-toxic, large amounts of this lily-lookalike can cause stomach irritation, vomiting and diarrhea. Peruvian lilies come in all colors and are also valued in floral arrangements due to their long life as a cut flower.
For further information:
Pet Poison Help Line – learn the common signs of poisoning, make a pet poison first aid kit and more!
Two glowing eyes peer out at you from under the bed. A paw darts out from under a chair to grab your ankle as you walk by. Your house becomes strangely empty when the cat carrier appears. Why do cats hide?
Despite myths to the contrary, there are a lot of normal, healthy reasons that cats may find a hiding spot. Some of these reasons include curiosity, comfort, or even boredom. Cats may also hide due to stress, age-related changes or illness.
A cat's high level of curiosity about her surroundings drives her to explore new nooks and crannies, especially empty bags and boxes, or suitcases and garment bags. That drawer you left open while you reached for a stack of shirts to put away? Check behind it before you close it, because a cat may be settling down in the darkness. Did you leave the dryer door open? Check to make sure there are no furry feet massaging your toasty warm towels into position for a nap before you close the door and press "Start". Did you turn away from the refrigerator while the door was open? Check for paw prints in the butter!
When curling up for a nap, they will also often find a quiet place where they are less noticeable, and may prefer a shoebox, laundry basket or paper bag. It is a confident, well-adjusted and happy cat that sprawls across the couch, or sleeps belly-up in the middle of the floor. Pregnant females looking for a nesting spot may be found hiding in strange spots, or may choose to have their kittens in previously unexplored areas – such as behind a large piece of furniture.
Cats may hide in some specific spots because of the temperature. They may seek out spots near air vents to benefit from a warm or cool breeze. They may curl up in the sink or bathtub to cool off, or worm their way under a pillow or blanket to warm up. The perfect afternoon sunbeam may end behind a chair or under a table.
Your cat also may hide because they are lying in wait for a game to begin. Some cats will find a hiding spot near a high traffic area in the house and then launch themselves out at unsuspecting feet. What could be more entertaining?
Sometimes, hiding can be your cat's way of "getting away from it all". When something in the house becomes too stressful, the flight or flight survival response kicks in, and many cats will choose flight before a fight. What causes stress in an animal that can sleep up to 20 hours a day? A cat's surroundings can be downright terrifying! That brand new kitten you got? It's gone and stirred up a whole mess of stress by using the same litterbox! The new baby in the house has totally rearranged the household sleeping schedule. The party last week interfered with kitty's squirrel-watching schedule. The new couch smells funny. And now that your oldest child has gone off to college, the bed where kitty used to sleep is now empty. If two cats in the household don't get along well, the more timid one may absent himself in order to avoid a confrontation. Oh, and one more thing…ever since that last horrifying trip in the cat carrier, you've been shoving things down your cat's throat twice a day. Who wouldn't hide?
Cats plagued by fleas may hide in elevated hiding spots, trying to get away from the critters in the carpets. (More information about flea control from Dr. Sundahl.)
Cats deprived of a healthy variety of changes during early growth development may never develop the normal curious and tolerant behavior expected in healthy young cats. This is often true of feral kittens that are trapped and socialized. Others will adapt, but slowly. (See Bodaishin's story) On the other hand, some cats are simply naturally, genetically, timid cats and not likely to change.
If your cat is a timid cat, and all indications of illness have been eliminated, then behavior modification and desensitization could be considered to help the cat better adjust to the home environment. Occasionally, antianxiety drug therapy may be helpful in getting the timid cat to overcome his fears and become more outgoing.
As cats age, they may develop subtle changes in personality. It is important to determine whether these changes are normal or related to health issues. Some cats even can become senile or suffer from dementia, and brain tumors are not unheard of in cats, all of which can cause cats to become more antisocial or hide more often.
So how do you tell if your cat is just doing normal cat things, or if it is an indication your cat isn't feeling well? If your cat is normally a social animal, making the rounds of the couches and chairs, reminding you that it's time for dinner, and cuddling with you in bed at night and you notice that he is choosing to nap in the closet instead of eating dinner, and he curls up under the bed instead of on top of the covers, then you might have something to be concerned about. Cats are creatures of habit, and a change in their normal routine is something noteworthy. However, if your cat has always been the type to sit behind the couch instead of perching on the backrest, it is probably just your cat's normal, shy personality.
If you are concerned about the amount of time your cat spends hiding, the location that they are hiding, or have noticed a recent change in behavior, your best course of action is to call your veterinarian for advice.

When I think about poisonous plants and cats, I immediately think about Rocky, and how he survived lily poisoning.   His owner, Susan had come home from work and found him happily lounging on the rug next to a lily he had taken from a bouquet. He had never bothered flowers before, so Susan had thought the lilies would be safe.  Lucky for Rocky, Susan knew that this exposure could be toxic and that early intervention was critical.  Rocky was hospitalized and after several days of aggressive intravenous fluids and supportive care, Rocky went home to a safe, lily-free home, with mild, but manageable kidney damage. What a lucky guy!
Lilies are perhaps the most common and the most poisonous plant your cat may encounter.  All parts of the lily are poisonous, including the yellow-brown pollen that so easily gets on your clothing (or your cat if he brushes up against the flowers).  Treatment is successful only if started early.
While cats tend to be more cautious than dogs in regards to what they eat, they often surprise us by eating unusual things.   It is important to be aware of what dangers may lay in and around your house and how you can best keep your cat safe. Remember that since most cats are good groomers, they swallow particles from most things they touch.  In other words, whatever they touch, they swallow.  In addition, if your cat chews or eats part of a plant, they will also be swallowing any fertilizer and/or pesticides that were applied to the plant. Know that even if your cat looks fine, exposure to certain plants or other toxins requires early intervention for successful treatment. While many plants (such as Aloe) will usually cause obvious symptoms (vomiting, diarrhea, tremors and lethargy) fairly quickly, for some toxins, by the time a cat shows symptoms of being sick, treatment may come too late.
Other common plants that are poisonous to cats when eaten include:  Marijuana, Sago Palm (including the seeds and nuts), Tulip Bulbs, Azalea, Oleander, Castor Bean, Cyclamen (especially the root) and Yew.
When looking to cat-proof your house (and yard), consult an expert source for information on poisonous plants. The ASPCA's website has a very complete list at http://www.aspca.org/pet-care/poison-control.  You can also reach the ASPCA Animal Poison Control Center 24 hours a day at 888-426-4435 (there is a fee for the consultation).  Please call your vet immediately if you think that your cat may have been exposed to a poisonous plant.
Most people remember the joys of growing up and either being tormented  by disgusting boys throwing dead worms at you, or being the disgusting  boy enjoying tormenting the object of their grade school affection.  Consequently, the thought of worms tend to hold a fair amount of  emotion for many of us. We cannot believe that our much loved indoor  cat could possibly acquire worms. BUT our indoor cats frequently have  worms and other parasites. How could this occur?
99% of all kittens become infected with roundworms from the mother  cat, through nursing and through contact with her stool. Some of these  roundworms will encyst and become dormant in the muscles and will not  be destroyed by dewormers. When the cat's immune system becomes  stressed from illness, pregnancy or even aging, some of these juvenile  roundworms will activate and migrate to the intestinal tract and start  reproducing. Also, contact with potting soil can infect cats with  roundworms. In a recent study 15% of potting soils were found to carry  roundworm eggs.
Many cats will chase and consume insects such as moths and beetles  which also can carry a variety of parasites. Indoor cats who are  mighty hunters and catch mice that sneak into the house especially  with the advent of cold weather often eat their prey and become  infected with tapeworms. Even the most sedentary of indoor cats can  become infested with fleas as fleas can come indoors via hitching a  ride with the household humans. When cats groom the fleas off they  swallow them and become infected with tapeworms.
Last but not least, in most areas of the country mosquitoes carry  heart worm larvae. Mosquitoes get into many homes – who has not been  irritated by that annoying buzz? Heartworm infected mosquitoes bite  the indoor cats who then develop heartworm disease. Heartworm disease  can cause asthma type symptoms,or even cause fatal heart and lung  disease.
So, protect your indoor cat from these parasites and give your cat a  monthly parasite preventative from your veterinarian such as  Revolution or Advantage Multi, and deworm your bug and rodent hunting  kitties 3-4 times a year with a tapeworm dewormer!
This actual scenario played out in my practice today….Chaka, a once stunning Balinese girl was waiting for an exam and blood tests when I arrived at the clinic this morning. Today Chaka looked like a skeleton with matted hair. Her eyes appeared sunken from dehydration and she struggled to breathe.   Her Dad, Steve, has always been receptive to all the medical recommendations I've made over the years.  Sweet Chaka has had more than her share of medical problems, many of which were chronic and required ongoing treatment.
Steve was devoted to her nursing care and follow up visits. Her list of maladies included inflammatory bowel disease that years later transformed into lymphoma (cancer),  fatty liver disease treated with a feeding tube, hyperthyroidism and a life-threatening adverse reaction to the drug used to treat the hyperthyroidism. Her last medical crisis happened a year and a half ago. After a blood transfusion and intensive care, we  started chemotherapy and much to our amazement, Chaka responded favorably and rallied once again! Steve and Chaka enjoyed another long stretch of blissful feline-human camaraderie.
Today I discovered a heart murmur and a chest full of fluid on x-rays…I quickly called Steve to discuss Chaka's condition and asked him to come down to the hospital right away.  Chaka was looking worse by the moment. My assessment led me to conclude that it was time for the discussion with Steve about sparing Chaka from further suffering. I ran over the options in my mind one more time and reaffirmed that none of the procedures and treatments I could offer for Steve's approval were likely to lead to good quality time for this kitty. Steve was initially resistant to the idea of euthanasia.  He said he wanted Chaka to "go naturally".  I explained that cats do not leave this earth gracefully; that they stubbornly cling to life and can suffer for days. In my opinion it has become our sacred responsibility to make the choice to let go when there is little or no hope for recovery.  After all, when felines chose to live inside our homes and we agreed to provide them with safety and food, they ceased to be exposed to predators or severe elements that would  have quickly ended their lives when they were sick or weak.
When a terminally ill or aged cat has been under ongoing veterinary care and close monitoring stops eating, chooses to hide in the closet or under your  bed, stops using the litter box or no longer seeks affection from the family, it is time to consider euthanasia.  In short, the unique daily routine you and your cat have shared has become severely altered.  Your veterinarian may still discuss medical procedures and treatments that could prolong kitty's life.  However, the final decision is up to you, the pet parent.  It's best to discuss with family members and friends at what point you will choose euthanasia as the time approaches. Your veterinarian will provide support and counsel through the process.  As feline health care givers, we are committed to assisting  you with humane end of life care and decision-making
Just about every cat owner knows that the reputation cats have for being antisocial is unfairly earned. Cats have a significant number of social interactions: visual, verbal, tactile, and olfactory (scent). One of the most endearing social interactions between cats or between cats and humans is head-butting, also called "bunting" or "allorubbing". Why do they do it? If cats don't NEED our society, why would they seek us out and rub all over us?
Cats are very tactile animals – they appreciate many varieties of textures. Each cat has its own texture preferences, and they tend to enjoy the sense of touch. As kittens, they "knead" their mother to ask for milk, and the mother grooms them, so from a very early age, cats are taught that touch is a comforting behavior. Cats may brush lightly against a person or another cat, or they may push quite vigorously, depending on their personality. Cats will only head-butt cats that they have a social relationship with, and it is generally a positive and friendly interaction. Most cats also purr while head-butting and rubbing other cats or people. This allorubbing behavior can be considered to be the feline version of a hug or handshake. A quick nose-bump is a cat's way of saying "Hi!"
Cats are also very sensitive to scents. Their sense of smell is about 200 times stronger than the human nose, and they also have the ability to sense pheromones with a small organ on the roof of their mouth. Cats also have scent glands all over their body, quite a few of them on the head: the forehead, cheeks, chin and lips. Other scent locations are at the base of the tail and along the length of the tail, on the feet and the flanks. When cats rub their scent glands on people, objects and other animals, they are transferring scent. Interestingly, some people have observed that cats seem more likely to mark people and other cats with the forehead and cheek scent glands and will mark objects with the scent glands on the lips and chin (called "chinning").
Cats distribute their scent around their environment by rubbing or scratching on objects, or even spraying urine. Each cat has a unique smell, and their own scent mixed with the smells of the cats that they associate with makes them feel comfortable and safe in their own territory. When they rub against another cat in the colony, it is thought that they are replenishing the cat's "group scent" after the other cat has been away. Many people notice that their cats will come running when they walk in the door and immediately start rubbing around their legs. This suggests that cats consider their owners to be part of their colony. Our response is generally to reach down and pet them, which reinforces this behavior.
Cats may also head-butt when seeking attention – sometimes a cat will head-butt another cat or person and then offer their neck sideways with their head tucked down. In this way, the cat is asking for grooming from the other cat, or scratches from a person, which simulates grooming behavior. Grooming is another touch-related bonding experience that makes cats feel good, comfortable and safe. So while your cat may not be saying "I love you!" in quite the same words we might use, she is saying "You're mine, because you smell like me, and you make me feel safe and secure," which, to a cat, is essentially the same thing.
Isn't it frustrating to be on a diet and go out with your friends and everyone is pigging out on French fries and pizza except for you? There you are with a salad, dressing on the side of course.  It's completely human to swipe a fry, mooch a slice, and then feel bad afterwards.
But the dieting cat….they really don't care what they look like, and lack even an ounce of self control.  If you have two or three cats, and one is battling the bulge but his pals are lean and sleek, it can be frustrating to find a way to limit portions or prevent the big guy from crowding the other cats out of the communal bowl.
How do you help a weight-challenged feline but still make sure the rest of the gang is staying happy and getting the food they need?
This is where it helps to be creative.  Most of our bigger cats are less than athletic—they simply can't jump as high as their more slender housemates.  Some of these heavy cats can weigh more than twice as much as their fashion-model friends.  Putting food bowls for the lighter cats up high where the big guy can't reach is an easy way to limit his access to the forbidden calories.
Another trick that can work is to build a box with an entrance hole that is only big enough to allow the smaller cats to get inside.  This gives those cats a place where they can eat peacefully without getting their food devoured by their big brother.  I've also seen some ingenious cat owners devise systems with gates that will keep out any cat who is not wearing a special electronic activating collar that allows access into the dining room.
Of course, you can always feed each cat individually by locking them into separate rooms during feeding times.  With this system, though, food cannot be left out for nibbles.
One cautionary tale:  Tank's owners used the high counter approach to whittle off nearly 10 pounds from their chunky boy.  Unfortunately, as all failed dieters know, it is easy to gain the wait back.  Tank lost enough weight that he was able to jump up to those counters (and the forbidden food) and he just didn't have the self control to limit his calories.  Happily, the electronic collar/door system solved this dilemma!
Cats love to hide in bags, boxes, and anything they can get into… so, why not the carrier?
It's a great question, and it takes understanding of the cat to answer the question – and to change it so that the cat also goes to their carrier.
Cats love places to hide – as soon as a cardboard box or paper bag comes into the house, most cats jump in.  They do so because they are curious creatures, and love places to explore – that is, on their own terms.  And they also like the security of something around them and a place to rest alone – tall cat beds, cubby holes, etc.
Cats also hide as normal behavior as a way to cope in response to a perceived threat or danger.
What is threatening to a cat?
Anything that isn't familiar.  Allowing them to have the choice to hide at home when someone unfamiliar comes home, and making the carrier a safe haven when they go somewhere unfamiliar, such as the vet hospital, is ideal.
So… why not the carrier?
Imagine for a moment that you are a cat, sleeping in a sunspot, and your favorite person brings out this box that you only go into when you've had experiences that have been fearful in the past. You run to hide, and your person acts uncharacteristically, chasing you around the house, then grabs you, and shoves you into this box. You are then carried in the box that jostles back and forth, put in a car, and there is a scary ride to an unfamiliar place where people treat you in ways that are unfamiliar, uncomfortable, and frightening. How would you react to protect yourself?
Instead, bring the carrier out of the basement or garage, and place it in a room where your cat likes to be. Putting it in a sunbeam is an added plus. Place a fleece or other soft bedding or clothing that has the scent from their favorite person into the carrier. Always leave the door open. Every day, toss a favorite treat or kibble into the carrier. Walk away and do not try to encourage your cat to go into the carrier; cats like choice, and will eventually start going in if they don't feel pushed or forced. Once your cat starts going into the carrier, reward calmly, praising is a soft voice and giving it more treats.
There are several excellent videos to help you make the carrier a positive place. They can be found on the CATalyst Council website:
First, take a look at the cat's trip to the veterinary visit for their point of view.
Then move on to other videos on how to make it easy to get your cat into the carrier:

And last, but not least, on YouTube, my 16 year old buddy, Watson, stars at my veterinary hospital, showing how to get into the carrier. He spent the first 9 years of his life fighting the carrier and hating the vet hospital; So it can be done, no matter how much your cat hates the carrier.
You can read part 2 here.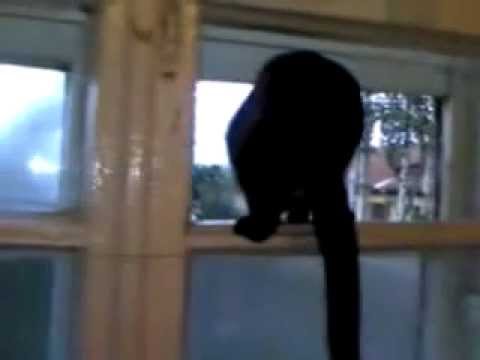 6,615,857 views and counting!
This barking cat has garnered the attention of the world! What's going on here-since you can't see the cat's face at first, is it a "bark-over?" No, when you look again and again ( I won't tell you how many of the 6,615,857 views are mine), you actually see the cat's body heave in  rhythm with the 'bark.' Or does he see an intruder out the window and is protecting his home? Mmmmm, probably not- since cats are both predator and prey, if there were something or someone that scary invading his territory, it would be normal for that cat to jump down from the open window and run and hide. So what's up with this guy's woof-woof? This poor kitty is actually coughing-and that's not normal! Some might say he's having a bad hairball day, and that's what's causing the bark/hack. Hairballs are NOT normal, and while urban legend and suppliers of hairball remedies and foods might suggest that, any good feline veterinarian will explain differently. He's hacking, and probably because of either a lung or intestinal problem. Perhaps he has feline asthma or feline heartworm disease (which is really lung disease). Regardless, this coughing cat needs to visit its veterinarian NOW. Before he goes into a crisis. His doctor will perform a thorough examination including looking in his mouth and throat, listening closely to his lung and heart sounds, feeling his intestines and other abdominal organs; even some x-rays may be in order. Once the reason for this awful, agonizing cough is identified and a treatment plan which both the cat and its owner can accomplish, then everyone will feel better- most importantly the coughing cat!
I really wish this cat were barking. Just imagine- if all cats would agree to bark, we might solve the overpopulation problem in a very short time. Or maybe not. And of course, isn't one of the pleasures about owning a cat and going to a cat-only veterinarian is that they're "bark-free?"