Tagged with " lung disease"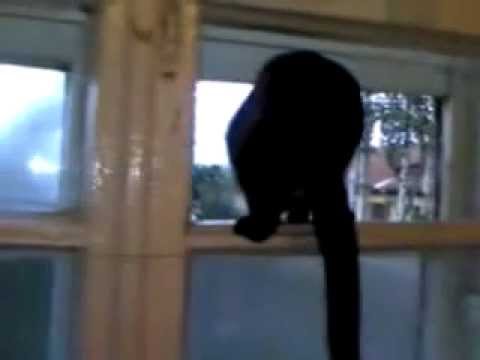 6,615,857 views and counting!
This barking cat has garnered the attention of the world! What's going on here-since you can't see the cat's face at first, is it a "bark-over?" No, when you look again and again ( I won't tell you how many of the 6,615,857 views are mine), you actually see the cat's body heave in  rhythm with the 'bark.' Or does he see an intruder out the window and is protecting his home? Mmmmm, probably not- since cats are both predator and prey, if there were something or someone that scary invading his territory, it would be normal for that cat to jump down from the open window and run and hide. So what's up with this guy's woof-woof? This poor kitty is actually coughing-and that's not normal! Some might say he's having a bad hairball day, and that's what's causing the bark/hack. Hairballs are NOT normal, and while urban legend and suppliers of hairball remedies and foods might suggest that, any good feline veterinarian will explain differently. He's hacking, and probably because of either a lung or intestinal problem. Perhaps he has feline asthma or feline heartworm disease (which is really lung disease). Regardless, this coughing cat needs to visit its veterinarian NOW. Before he goes into a crisis. His doctor will perform a thorough examination including looking in his mouth and throat, listening closely to his lung and heart sounds, feeling his intestines and other abdominal organs; even some x-rays may be in order. Once the reason for this awful, agonizing cough is identified and a treatment plan which both the cat and its owner can accomplish, then everyone will feel better- most importantly the coughing cat!
I really wish this cat were barking. Just imagine- if all cats would agree to bark, we might solve the overpopulation problem in a very short time. Or maybe not. And of course, isn't one of the pleasures about owning a cat and going to a cat-only veterinarian is that they're "bark-free?"